Our company was founded in 1988 by Ioannis Karapanagiotis, based in Zacharo, Ilia, and its main activity is the trade of bottled LPG, gas appliances, as well as their service, having until today created a very wide clientele in Ilia, Messinia and Achaia with the most competitive market prices.
In 1994 we moved to a new privately owned site in Syntriada Pyrgos Ilias with a storage capacity of up to 10 cubic meters of LPG stacked in cylinders.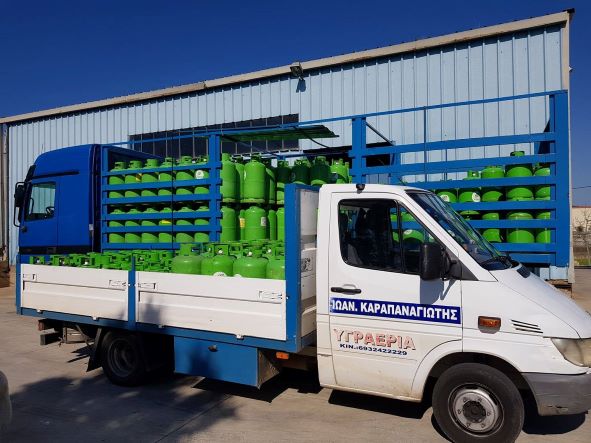 In 2017, the business evolved with the presence of Karapanagiotis Constantinos with the acquisition of a Mechanical Engineering degree from the University of Thessaly, now providing complete solutions in electromechanical studies and gas network applications both at the domestic and industrial level.
In 2018 we are establishing a New Store - Technical Office in the center of Pyrgos on Patron Street 76 and we are creating the largest showroom in the prefecture for LPG products!
In 2019 we create our first e-shop and start selling gas appliances and spare parts throughout Greece.
In 2021, we are bringing to Pyrgos the first LPG tanker vehicle, for the disposal of bulk, to residential and professional consumers throughout Ilia Achaia and Messinia
In 2022 we are moving to a new, larger showroom, where we now offer a wide range of used professional gas appliances as well as even more new ones!
For us at Karapanagiotis Gas Solutions, every customer is special and we flexibly try to satisfy their needs.
Some reasons why someone should choose to work with our company:
Competitive prices
Continuous and personal contact with our customers
Reliability
Over 30 years of experience in the gas field
Nationwide distribution through our e-shop
Certified and safe gas installations
Own fleet of tanks/vehicles
New gas bottles
Fully trained and specialized staff
Our company's strategy focuses on the tripartite "Safety - Reliability - Economy".
"Bonding" with our customers is in the foreground as the goal is to build long-term partnerships and develop relationships characterized by honesty and mutual trust.